It's fair to say that 2020 changed how we behave — both inside and outside of our homes. Every industry, from travel to retail, has been affected by COVID-19 and the gaming industry is no exception. Our time in front of screens has increased significantly and as a result, a number of people are utilizing this additional screen time to learn a language, try a new hobby, or play video games.
Content
Games as a Service: Everything You Need to Know in 2021
According to Deloitte's 2020 digital media trends report, a third of consumers subscribed to a video gaming service for the first time during the pandemic. While these numbers might vary based on age groups, one thing is clear: this unexpected demand and interest for gaming will continue to increase in 2021 and beyond, particularly in a monetary sense. In a January 2021 study, cloud gaming growth is expected to reach more than $7B by 2027.
We'll look at how Games as a Service (GaaS) has contributed to this growth, how marketers can benefit from this popular trend, and what the future might look like for GaaS. You can jump to our infographic featuring all the insight and information you need to win at GaaS.
What Is Games as a Service (GaaS)?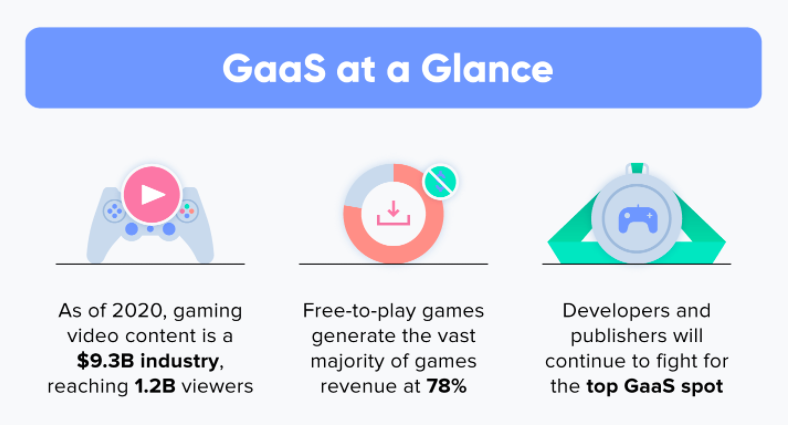 Similar to Software as a Service (SaaS), Games as a Service (GaaS) helps developers monetize video games, even after the initial release. It incorporates an ongoing revenue model where players can purchase:
Microtransactions (low-cost purchases that unlock additional content within a game)
Downloadable content (DLC) through a range of subscription-based options.
Due to the number of games that are updated via remote servers, you'll likely hear developers and gamers refer to these games as "live-service games." Through exciting and engaging content and updates that are streamed directly to a device, live-service games are built to stand the test of time, particularly as the game, and its community of players, evolve way beyond the initial release.
History of GaaS
World of Warcraft. Fortnite. Candy Crush. What do all these games have in common?
They are successful examples of when developers cashed in on the GaaS strategy and model.
We'll explore these examples a little later but simply put, whether games offer a monthly subscription or opportunities to purchase microtransactions, the mission is the same: monetize a captive player audience with in-game experiences, purchases, and content.
Gone are the days when you'd go down to Blockbuster and rent a game for the weekend. Traditional video games are sold once and exist on a single purchase and experience level. As multiplayer games grew in popularity, so did the Games as a Service model.
How Does the GaaS Model Work?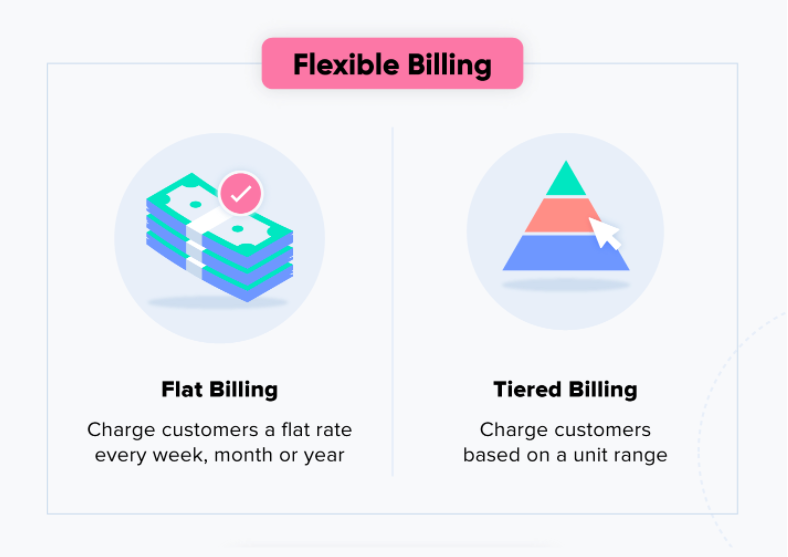 Simply put, Games as a Service is a business model that allows companies to monetize a game after the initial release or as an ongoing revenue stream for free-to-play games.
Thanks to microtransactions, developers make money from players who are willing to spend on must-haves, like accessories and special features. Fortnite, a game that uses the GaaS model, generates revenue exclusively from microtransactions and, as a result, the game remains free and more enticing for players.
As a business model, Games as a Service serves two audiences:
The player who is happy to pay to play through microtransactions
The player who is happy to pay to play through a monthly subscription
An example of the microtransaction model: according to EA,  Apex Legends had 50 million players in its first month in 2019. Note: this is the last time EA released player numbers so we'll use it as an example. If each of those players spent $3 while in the game, EA would earn $150 million on microtransactions alone.
An example of the monthly subscription model: Final Fantasy XIV offers players a monthly subscription of $12.99, but there is a rule attached: players must be active in the game once a week to keep their spot and property.
Game publishers and developers need to keep both audiences happy. Here's why: monthly subscribers help pay for the cost of remote servers and the ongoing overhead costs associated with production. People who are more comfortable paying via microtransactions are providing publishers and developers with extra reasons and revenue for adding those must-haves into the game to entice further loyalty.
How Can Marketers Benefit from GaaS?
As a marketer, think strategically about your objectives and start with the ultimate goal: identify your audience and convert them into repeat customers. It's about creating the right message for the right audience and delivering it at the right time.
In addition to outlining your objectives, it's important that you identify which billing/subscription model makes the most sense for your audience; also think about how your CRM strategy will complement your overall marketing strategy. Let's look at billing and CRM more closely.
Flexible Billing Options for Companies and Customers
As mentioned above, one of the main benefits of Games as a Service, particularly for marketers, is the revenue opportunity. For GaaS, there are two main options:
Flat billing: charge the customer a flat rate every week, month, or yearExample: Shadow players can purchase either the entry-level Shadow Boost for $12 per month, Shadow Ultra for $25 a month or Shadow Infinite for $40 a month. Each one offers different features and upgrades. This new subscription model, which was launched in March 2020, allows gamers to choose the pricing level that suits their gaming style.
Tiered billing: charge the customer based on a unit range
Example: Fortnite Battle Royale players can purchase The Battle Pass. It costs $9.50 in V-bucks, the in-game currency. With this pass, players can buy their way into each new tier — there are 100 in total.
There are benefits to both billing options. On the one hand, a subscription confirms a long-term investment from the player, encourages retention, and allows developers to grow their communities with confirmed numbers. On the other hand, a tiered billing approach means that players aren't locked into a monthly fee and have the freedom to pay into a tier or level within multiple games as opposed to just one.
Three Additional Ways to Monetize with the GaaS Model
1. In-app purchases 
According to Sensor Tower, of the $50.1 billion generated by in-app purchases in H1 2020, $36.6 billion came from within games. There's a reason that microtransactions are so popular for both developers and players. Through in-app purchases, gamers are free to buy the exact content that they want and developers can grow demand and income. This means that gamers will remain loyal and become even more involved in playing the game. 
2. In-game advertising 
When it comes to advertising, it's about quality and quantity. Both ads and ad formats need to be engaging, innovative and informative and most importantly, they shouldn't be disruptive to the gameplay experience. Although interstitial ads are popular, these full-screen ads cover the interface of an app and some players think they are annoying.
Consider rewarded videos as they reward users for watching full-screen ads in exchange for in-app rewards. For 2021, the upward trend is about smarter, playable ads so keep this in mind when you consider in-game advertising. In fact, according to a joint study between Facebook and Walnut Unlimited, nearly 4 in 5 (79%) of developers using a hybrid approach said rewarded video is working most successfully.
3. Seasonal digital pass  
This option works best if a player is fully committed to one particular game. Through a seasonal digital pass, rather than paying for each add-on separately, players can pay an upfront fee that they can dip into throughout the year. Typically, games offer exclusive content and features to seasonal digital pass holders, so it's another great way to build loyalty.
A Good CRM Setup Will Keep Users Engaged
It might be tempting to try and capture customers within that first month but in reality, a gamer's attention span is a precious commodity that must be captured within the first hours of sign-up.
As of January 2021, there are almost three billion gamers around the world. The appeal of gaming is reaching literally everyone as a compelling form of entertainment.  Due to the nature of cloud gaming, it is no longer enough to just publish a game and walk away. The commitment is 24 hours a day, 7 days a week because this is how often customers are playing games.
You'll find several diagrams that visualize the "customer lifecycle" but we've broken it down into important questions that marketers must answer for an effective, efficient, and engaging CRM strategy. 
1. Why would a player want our game? 
Those first hours are the most important. Whether a player stumbled on your game through word of mouth, the app store, or advertising, the player experience begins here. Fancy graphics, logos, and bells and whistles won't necessarily lead to a download. Ensure that your App Store listing offers the best balance of interesting, minimal text to explain how the game works and highlight the USPs. Take advantage of any opportunities to use video within the app store. 
2. How does our game look to a first-time user? 
You've convinced a player to download your game. What do they see on that first open? With this in mind, don't leave a gamer feeling underwhelmed. Is there any chance that a first-time user could be confused? Is the jump from Level 1 to Level 2 too complicated to keep a gamer interested?
Don't be afraid to offer tutorials and clear instructions on how to perform basic moves, like jumps and kicks, and allow users to access these tutorials whenever they need them. 
3. How are we making money from each player?
For free-to-play games, you'll rely on microtransactions for a revenue source. This doesn't mean you should scrimp on personalization, bonus features, or lose sight of regular marketing to emphasize the ongoing value of your game. Even with microtransactions, players don't want to constantly pull out their wallets each time they want to advance to the next level.
As you get to know your audience, test the number of in-app purchases and scale back if necessary. An alternative: introduce a range of prices that align with the value of that purchase or add-on. 
4. Does this ad make sense in our game? 
Any gamer, whether new or seasoned, knows that ads will appear within the game. As proven by Ipsos MORI, almost half of people will remember "a lot" or "some" of that ad. If you have a free-to-play game, you'll likely use ads as another revenue source.
However, keep in mind that players don't want to be interrupted by ads. Ensure that ad placement and timing don't lead to player abandonment and annoyance. Players are there to be entertained and a well-placed ad, with content that is relevant, can be a great part of the player experience. 
5. How do we increase the chances of retaining a player? 
The first-time user is now a repeat customer. This is a great result, but as with the first experience, when players return is just as important. This is not the time to re-introduce those useful tutorials. Return players haven't come back for another lesson.
On the other hand, this is the perfect opportunity to update players with what they missed while they were gone. Did the story change? Are there new characters that have been introduced? By keeping your players informed on the important changes, you'll likely see them again very soon.
Who's Winning at Gaas?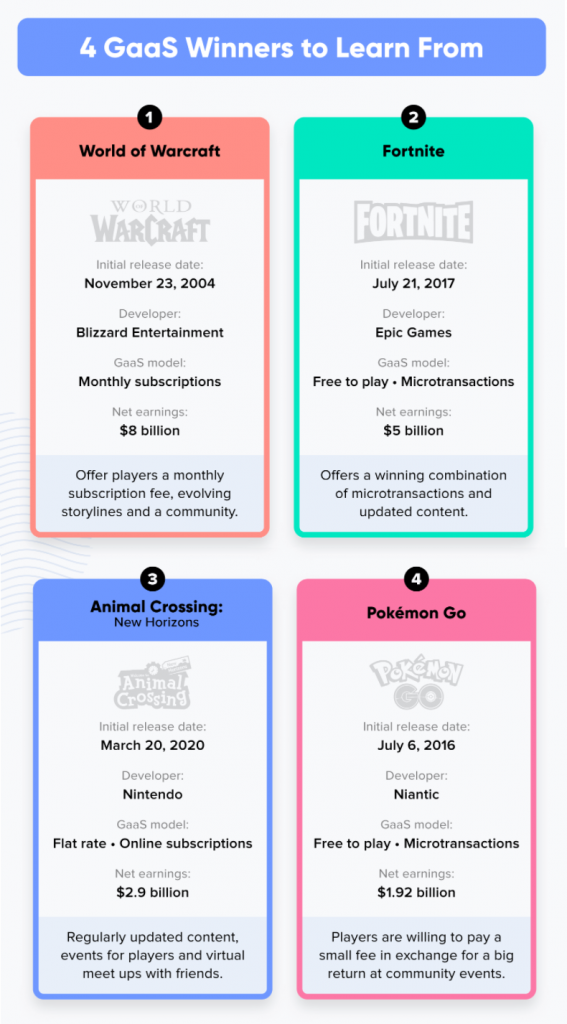 There might not be one winning formula or approach to Games as a Service but there are some best practices and success stories to look to for inspiration. We've featured two here that we feel are great examples of GaaS success. 
World of Warcraft
Initial release date: November 23, 2004
Creator: Blizzard Entertainment
Other games: Call of Duty and Candy Crush
GaaS model: monthly subscription
Number of players (2015): 5.5 million
Activision Blizzard net earnings (reported December 2020): $8B
This multiplayer game reigns supreme for a reason: Blizzard Entertainment had a very long head start on what this technology and type of gaming could do for its company and gamers. It introduced the monthly subscription model and customers were willing to pay the $14.99 to be part of this world and community.
The demand might have slowed down but it was only six years ago that Blizzard reported having almost six million customers — interestingly, this was the final time that these numbers were shared. For a game that's almost 20 years old, the team at World of Warcraft is still delivering for their loyal players. 
Fortnite
Initial release date: July 21, 2017
Creator: Epic Games
Other games: Assassin's Creed Valhalla and Satisfactory
GaaS model: free-to-play + microtransactions
Number of players (2020): 350 million
Epic Games net earnings (August 2020 forecast ): $5B
In May 2020, Fortnite's official Twitter account made a big announcement: the game officially had 350 million players. What's more, in April 2020, those millions of players spent more than 3.2 billion hours in the game. Fortnite is one of the best success stories for free-to-play games.
The game releases new seasons four times a year — which means players buy this new content — and then there are opportunities for developers to earn money on microtransactions in between these seasonal releases. 
Animal Crossing: New Horizons
Initial release date: March 20, 2020
Creator: Nintendo
Other games: Mario Kart and The Legend of Zelda
GaaS model: flat rate for game + Switch Online subscription
Number of copies sold (December 2020): 26 million
Nintendo net earnings (FY ending in March 2021 ): 300 billion yen (~$2.9 billion)
The Animal Crossing phenomenon started in 2002 with the first game and its popularity has carried over to its latest release — New Horizons — for Nintendo Switch. What makes this latest game akin to GaaS is Nintendo's frequent updates with new content.
Throughout 2020, Nintendo added a wide range of new features, seasonal content, and other fun features. Although individual players have to pay an annual Switch Online fee of $20, the Animal Crossing community is growing leaps and bounds.
Pokémon Go
Initial release date: July 6, 2016
Creator: Niantic
Other games: Harry Potter: Wizards Unite and Catan: World Explorers
GaaS model: free-to-play + microtransactions
Number of players (2020): 576.7 million unique downloads worldwide
Pokémon Go earnings (reported earnings in 2020 ): $1.92 billion
There doesn't appear to be a slow button for Pokémon Go. It's been available for less than five years and it was reported that 2020 saw 576.7 million unique downloads worldwide. What's more, the developers at Niantic are striking gold with their regular community events. In February 2021, to mark two big Pokémon anniversaries, players were invited to take part in a ticketed event for $11.99 (plus taxes and fees).
It doesn't stop there: there are monthly events to celebrate the global player community. On the day of the event, if you want to unlock a special research story, you can via the online store for only $0.99.
Gaming as a Platform: Future of Industry?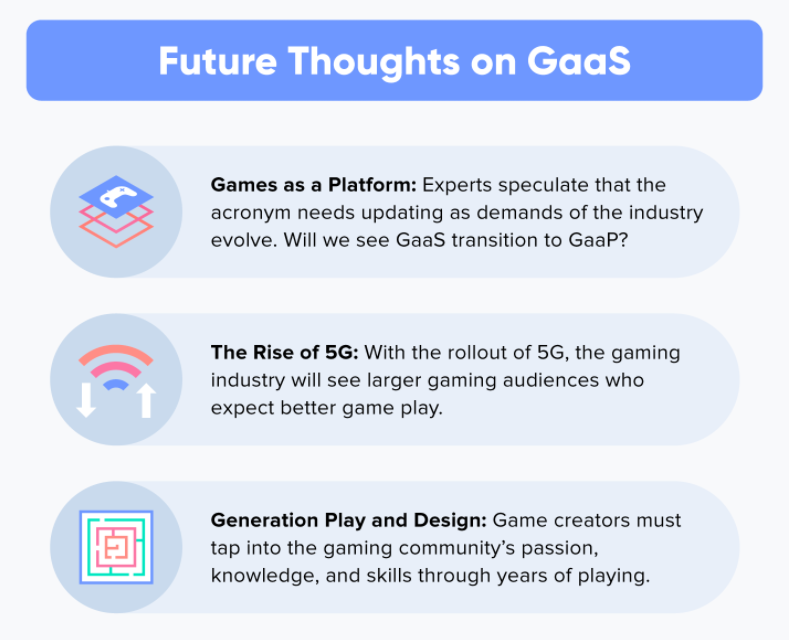 In January 2021, James Gwertzman, head of cloud gaming at Microsoft, spoke to Game Rant about the future of GaaS. Gwertzman alluded to the fact that Games as a Service is slowly evolving toward Games as a Platform.
The fact is that GaaS has been around for more than a decade and the business model must evolve to meet the current and future demand and needs of players around the world. The gaming industry isn't just producing single games anymore. The industry is now providing a platform and communities are growing as a result.
Additionally, with the rollout of 5G, Games as a Service will benefit from even more players coming in to challenge and push the industry forward. It's therefore essential that marketers are two steps ahead of the gaming industry curve to ensure that innovation and creativity remain at the forefront of research and development. The gamers of yesterday are still here today, but what's more, the role of a gamer is also evolving.
People who contribute to the ongoing success and growth of the gaming industry aren't just waiting around for the next update or new content. They are using their passions, knowledge, and skills to develop games and apps. This is where developers are recruiting from because who knows a game better than the people who play them?
Overall, Games as a Service is here to stay and marketers would do well to remember that engagement is crucial, regardless of what subscription model you have in place. There are more helpful resources available — from mobile game marketing tactics to a roundup of the best gaming app install ads. We recommend that you check these out for even more advanced marketing solutions for media and entertainment apps.